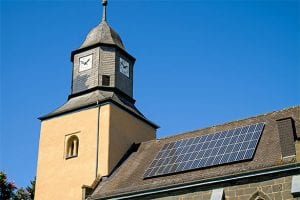 Many non-profit organizations can benefit from solar. There are funding mechanisms to help non-profits, such as churches and Community organizations that own their building. They are saddled though with high electricity bills and do not have the capital to buy solar for their property.
On top of that, they can not take advantage of the generous 30% Federal tax credit. We offer installed solar systems with a lease option that gives the non-profit a lower bill then what they are currently paying the utility.
Solar For Churches
Churches & Places Of Worship often have very high electric bills. Solar Power & LED Lighting Retrofits can bring tremendous savings. However, Due to the non-profit status of a church, the Federal solar tax credit of 30% has not been an option until now. We offer Power purchase agreements for solar and LED lighting retrofits. Both of these options lower a churches cost of electricity.
Good Stewardship
Solar and saving energy is good stewardship for a place of worship. This allows you to use the savings where it really matters.
The Savings
We can provide savings the first year and every year after for 25 years and more.
How It Works
We take care of all the design and installation costs with no church funds required to start saving money now.
Save money with a no-cost solar system installation.
Save money with a no-cost LED Lighting retrofit.
Replace high cost utility electricity with lower cost power.
Buy out system anytime after 5 years
Multiply your church funds with our $300 Partners Referral Program
Fundraising for Your Non Profit With Solar
Considering some fundraising options for your organization? Consider a solar referral program. We work with your church or organization to offer solar to your participants and they get a great solar system for their home or business and the organization or church gets a $300 referral bonus.